ROLE
Associate Creative Director
THE CHALLENGE
Assemble a global team, redesign samsung.com, and consolidate all of the sites into one instance of Adobe AEM. Our team was involved from pitch to handoff.
MASSIVE COLLABORATION
There were multiple teams across five time zones, untold numbers of stakeholders domestic and abroad, and a colossal undertaking to consolidate all the Samsung.com instances across the globe.
It was a 24-7 operation, and we used video handoffs, embedded New York designers in Korea, and had many calls late into the night. The bulk of this all happened during Covid, but thankfully we could move things entirely online to get it all done.
OVER A BILLION USERS
Samsung.com has over a billion users worldwide. Our challenge was to create a global design system that could scale across languages, markets, and cultures.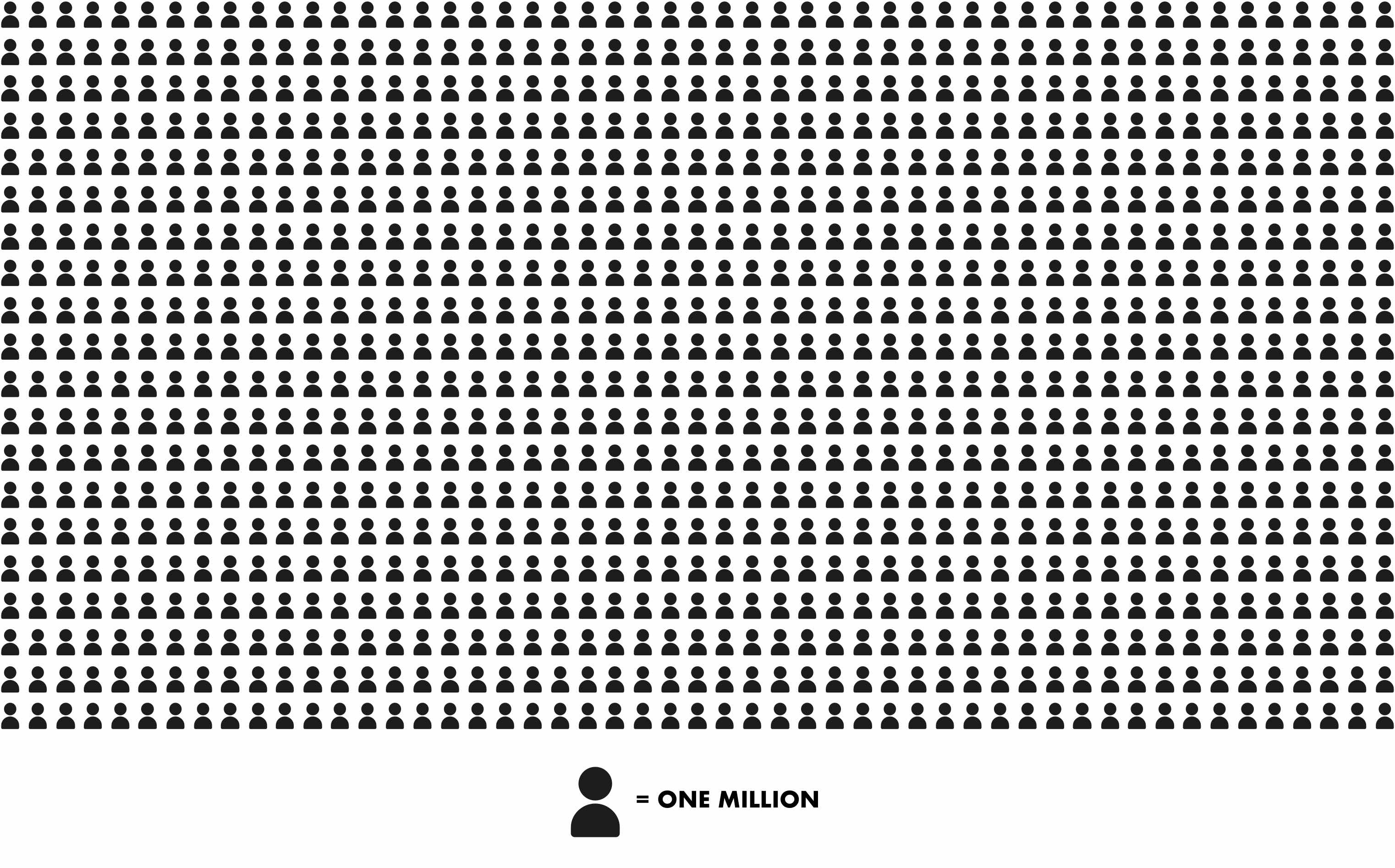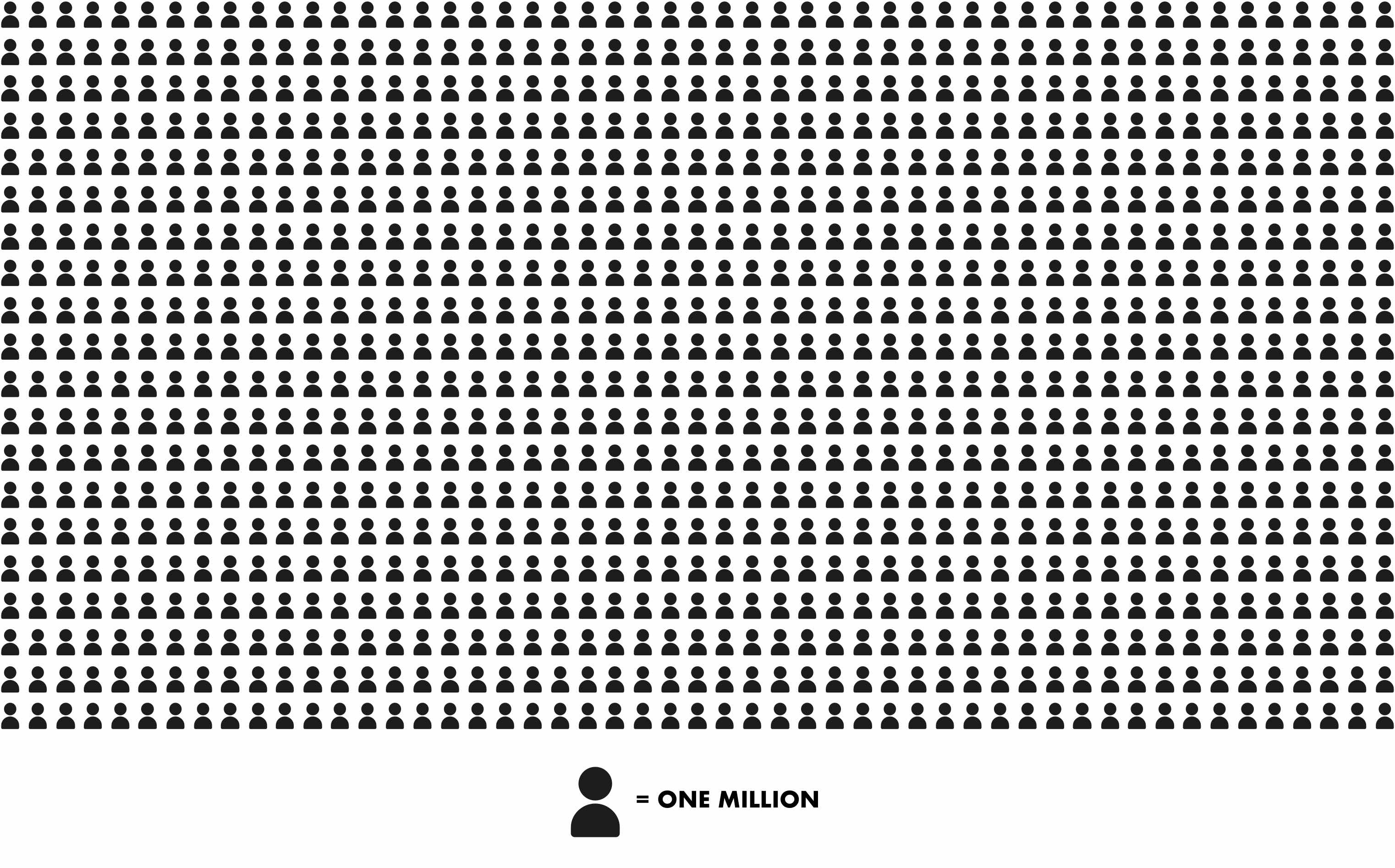 88+ MARKETS WORLDWIDE
The redesign is currently rolling out to all of Samsung's markets worldwide.

PROCESS
The strategy was to tackle the designs in two phases. We began with wireframes, base components, and styles. Each wave consisted of hundreds of designs for wires, pages, components, and sections.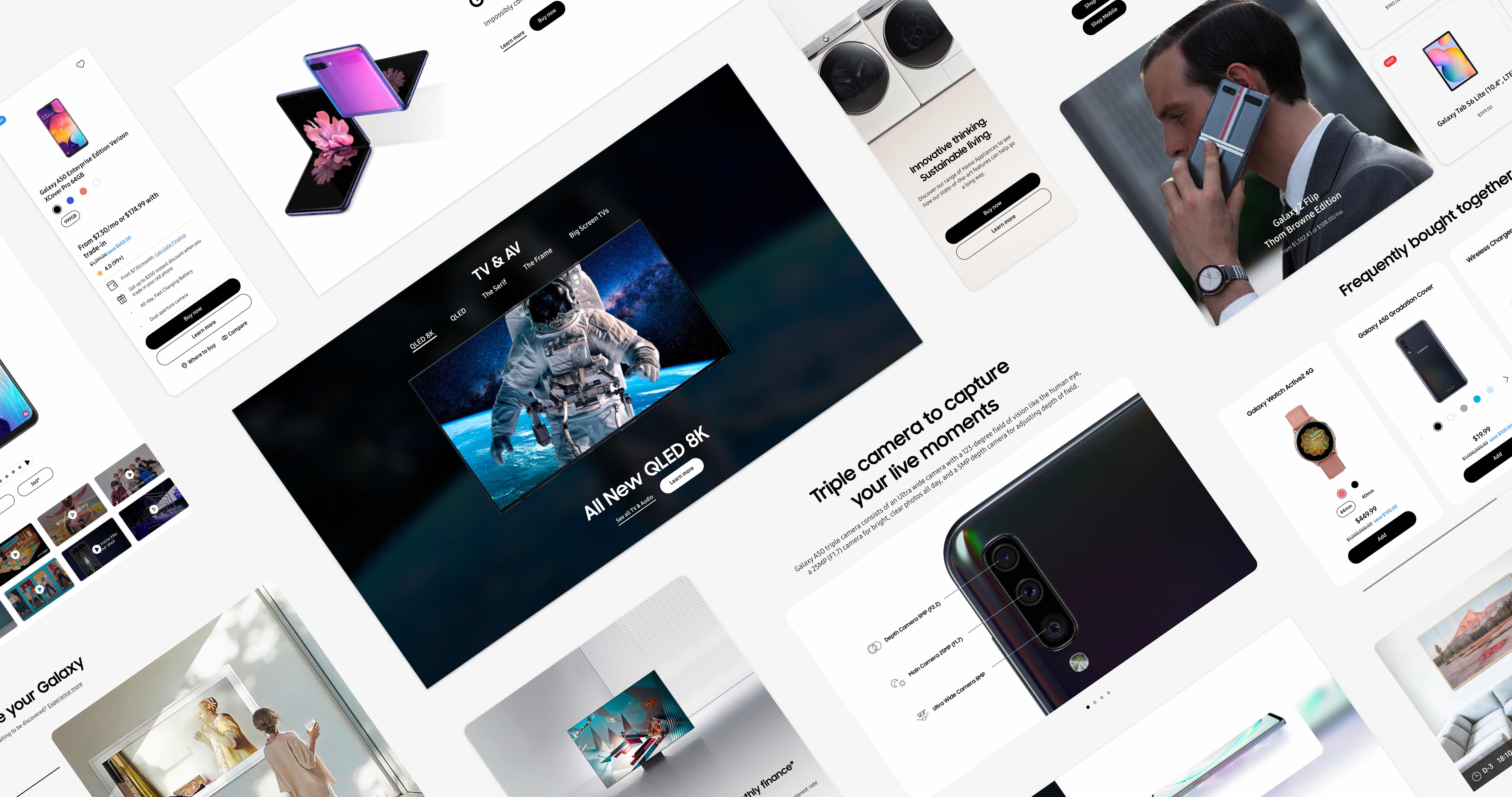 Hundreds of wires, page layouts, components, and sections were created.
DESIGNS
I led the visual design team from New York which included designers in Los Angeles and embeds in Korea. We handled a lot of the groundwork and designs for page layouts, components, and the design system. Again, it was a truly collaborative effort with a twenty-four-hour design cycle, as our teams in Korea would then take over work during our nights and handoff everything back to us in the morning.
HOMEPAGE AND GLOBAL NAV
The homepage and global nav were a culmination of efforts from our team and the team overseas in Korea. Of course, it contains your tried-and-true components. Still, we had the opportunity to build flexibility into each component, and the final nav was informed by extensive user testing and global feedback and performance.

PAGE TEMPLATES
The journey takes you through the Product Family, Product Category, Product Finder, and finally, the Product Detail pages from the homepage. Our team helped design all of the templates and components in collaboration with the global team.
PRODUCT FAMILY
Product family templates are the top of the rock for product lines. Think of home appliances as an over-arching family of products.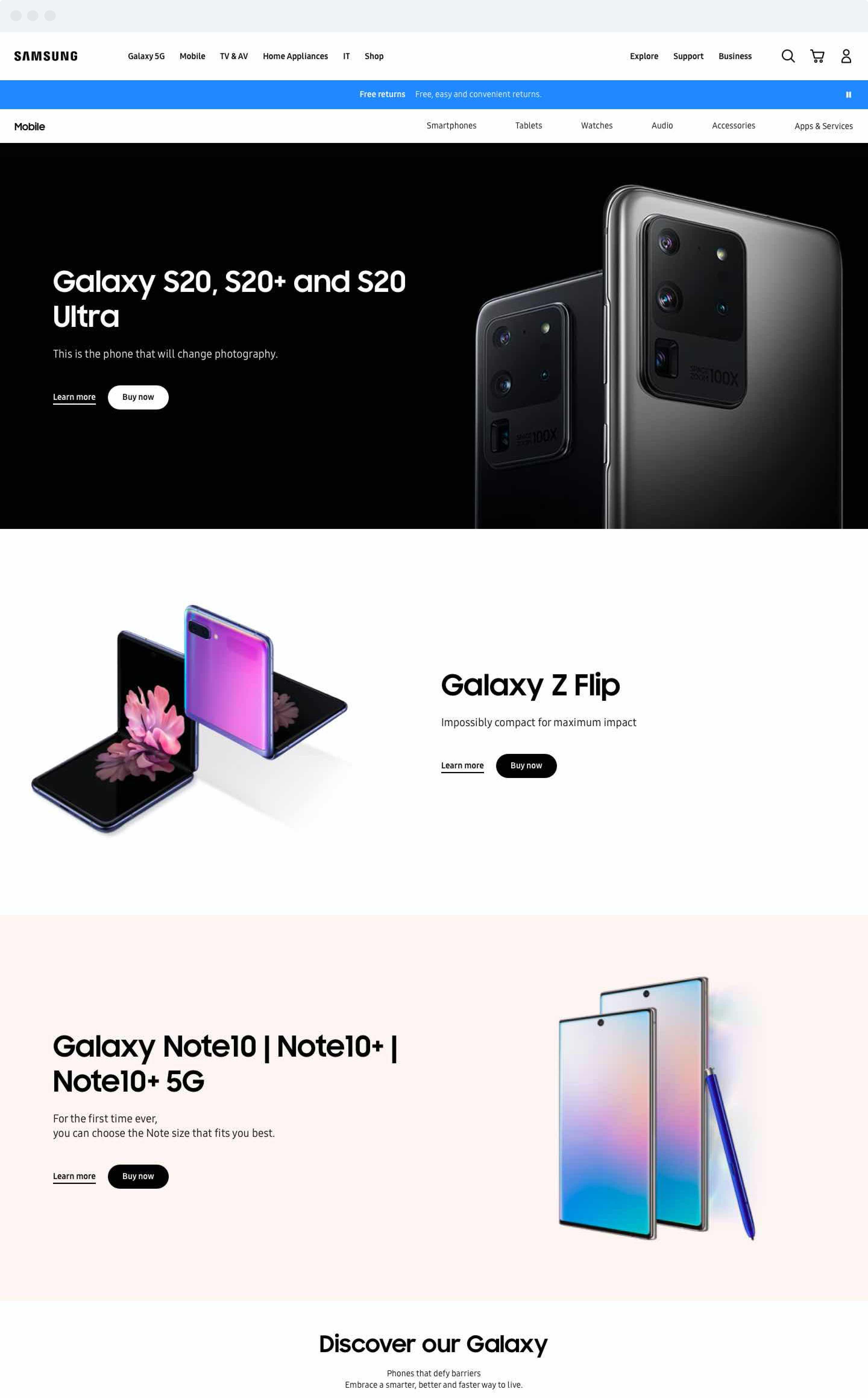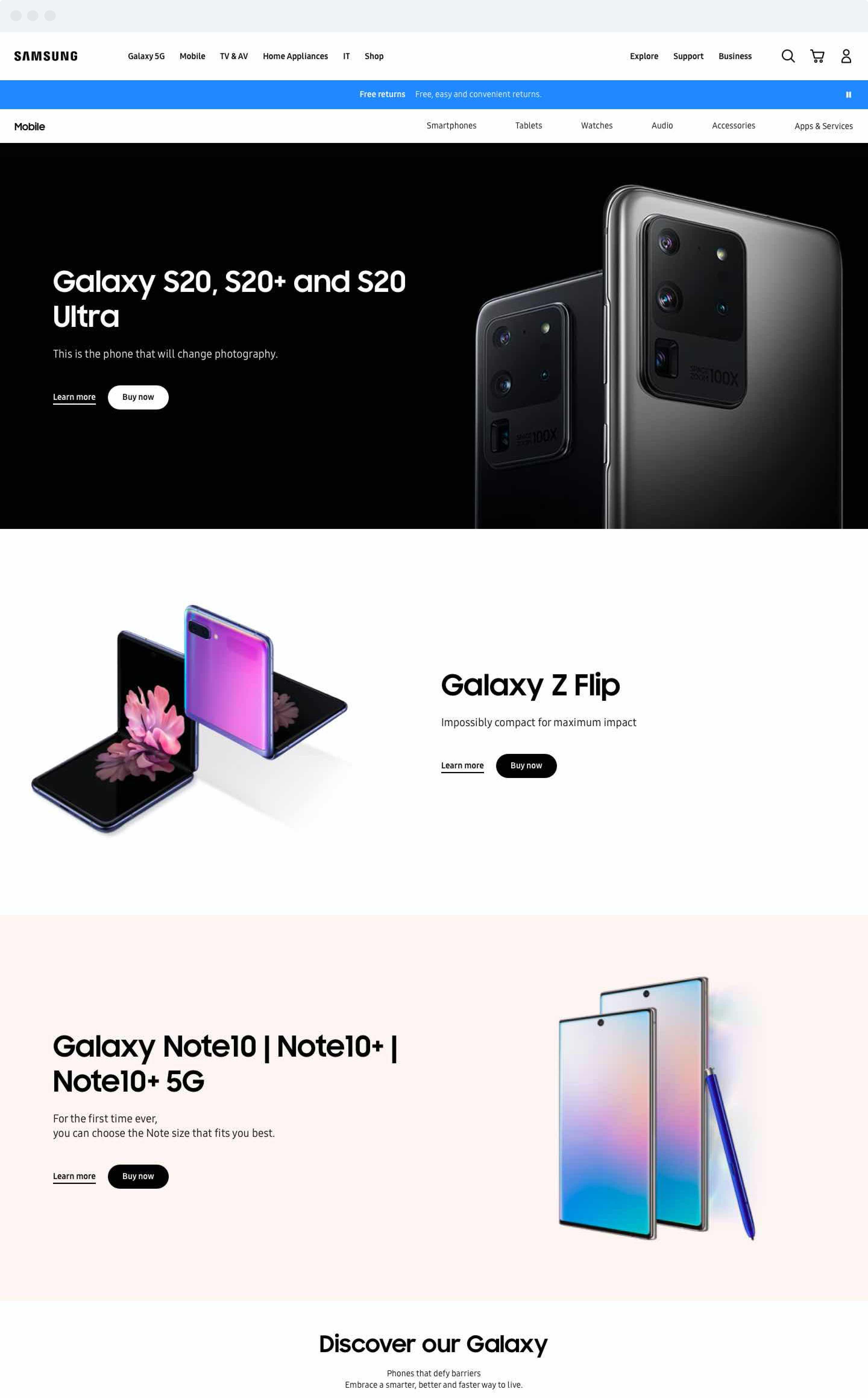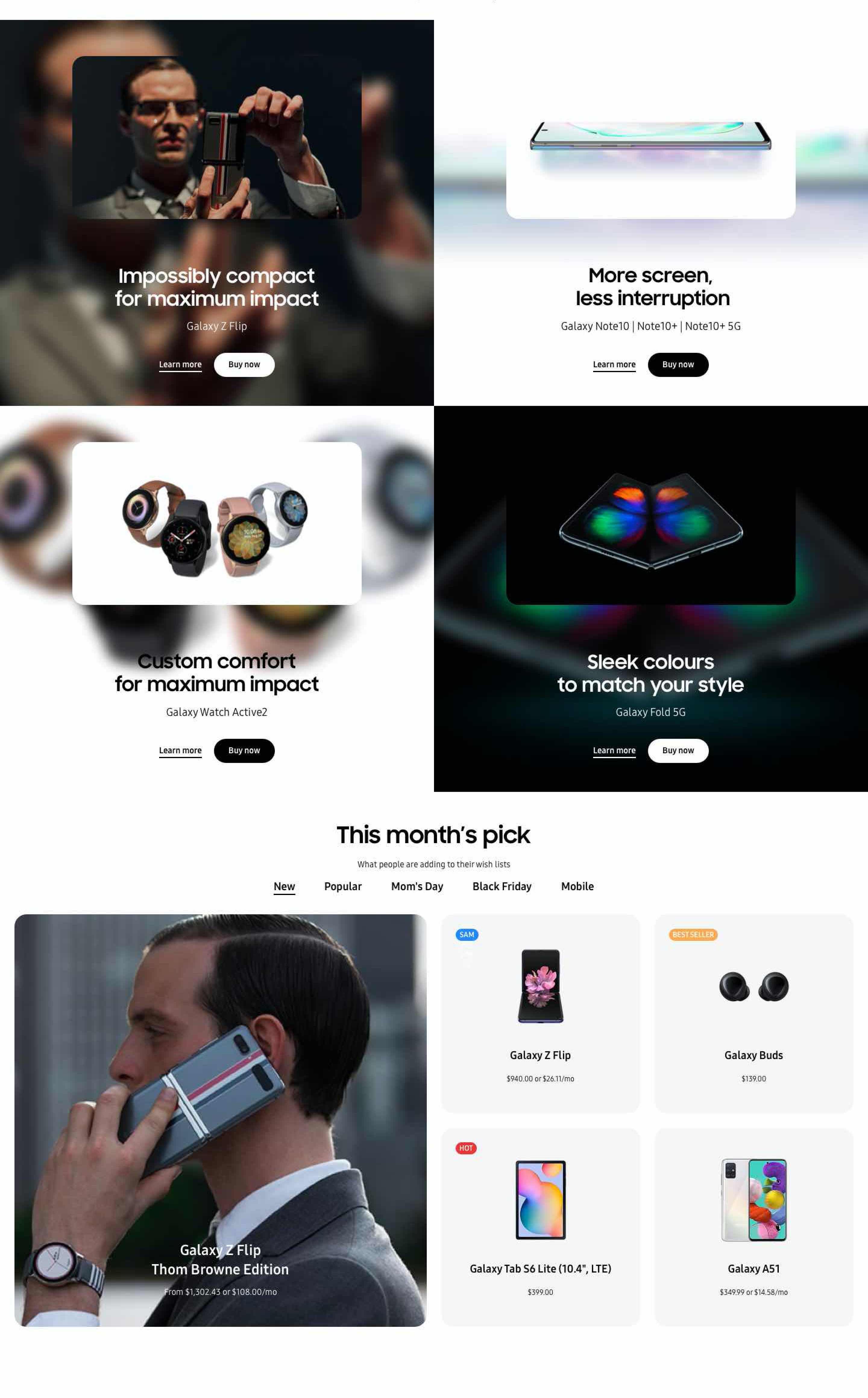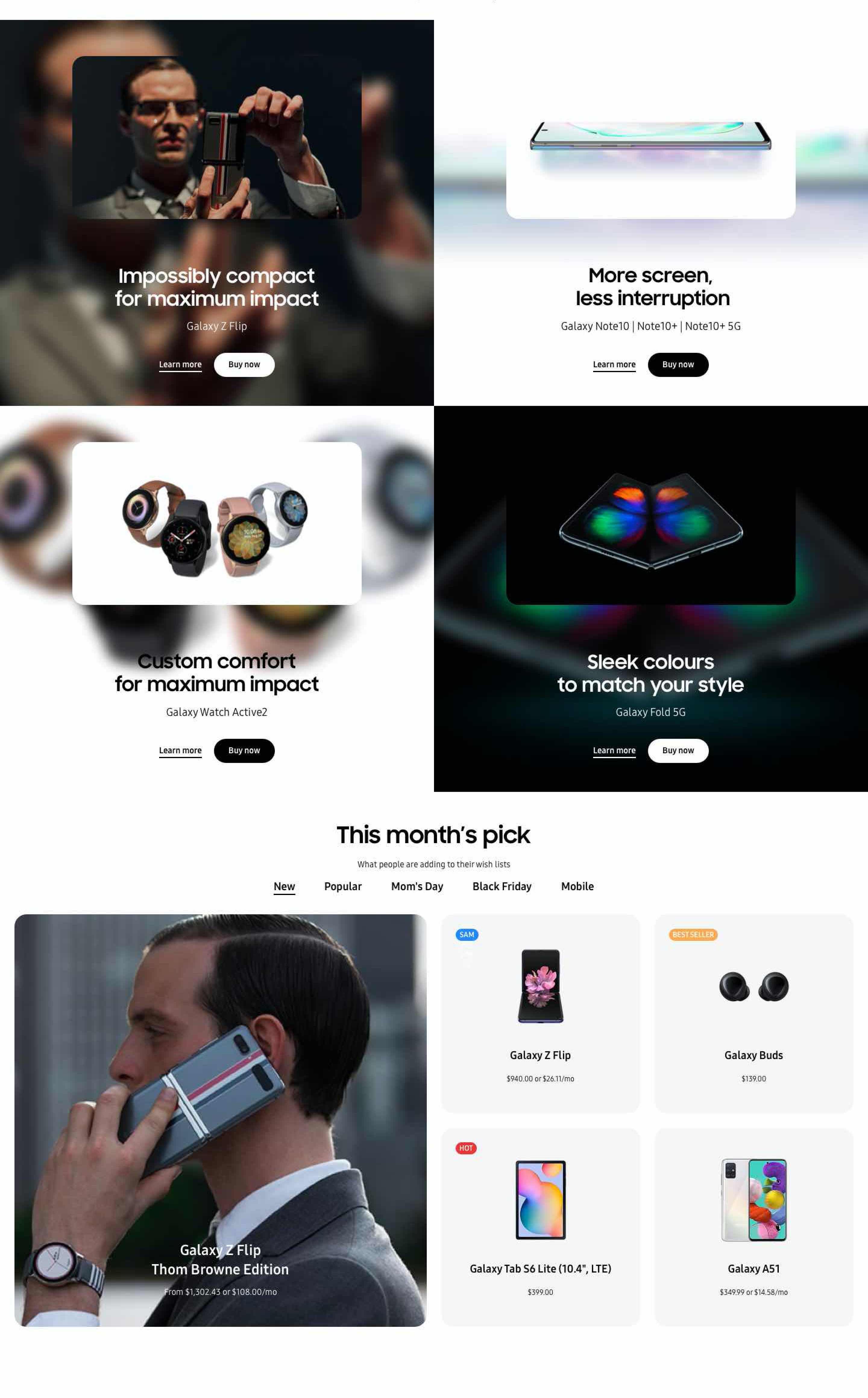 PRODUCT CATEGORY
These pages contain the categories of a family of products. Think refrigerator category in the family Home Appliances.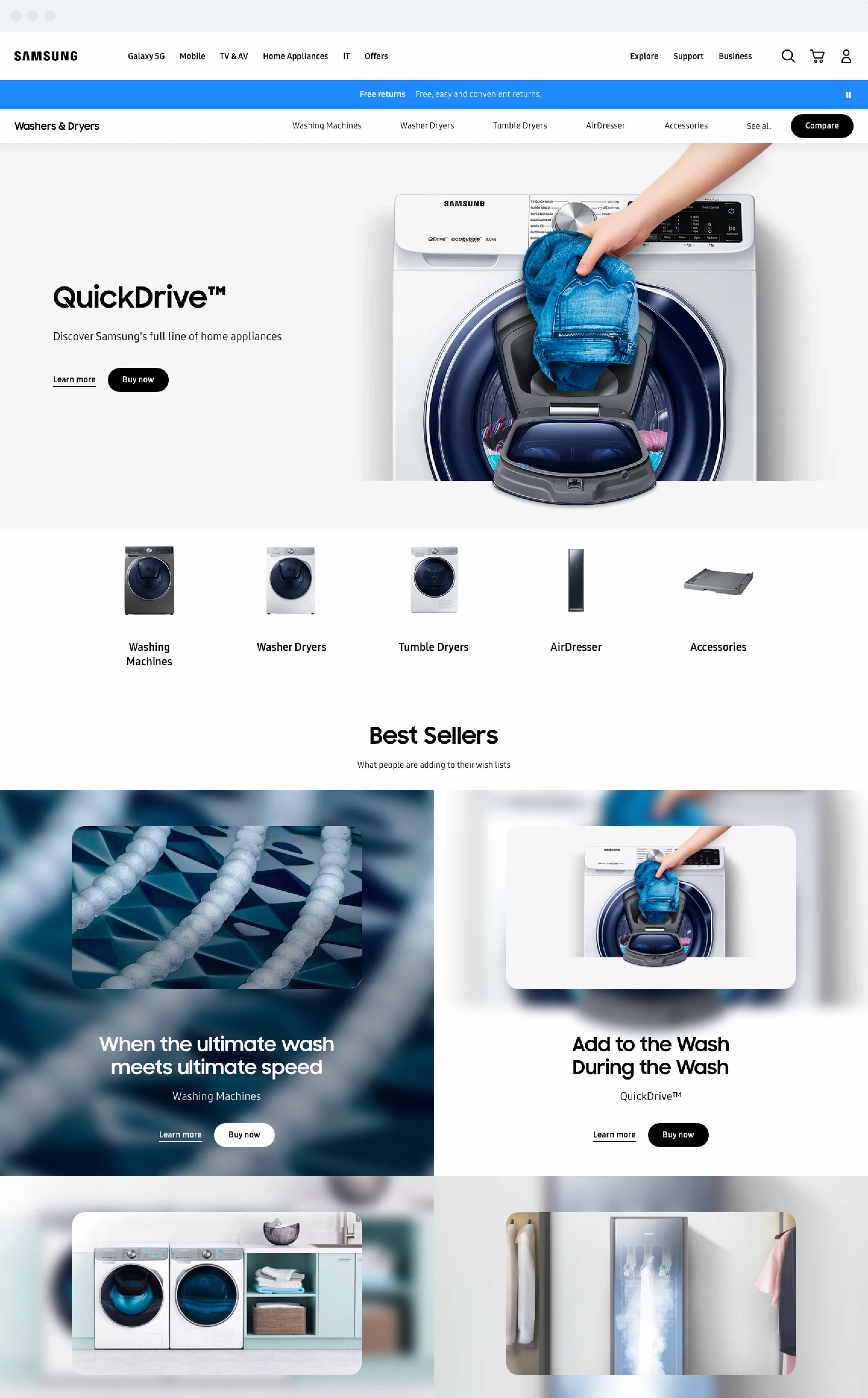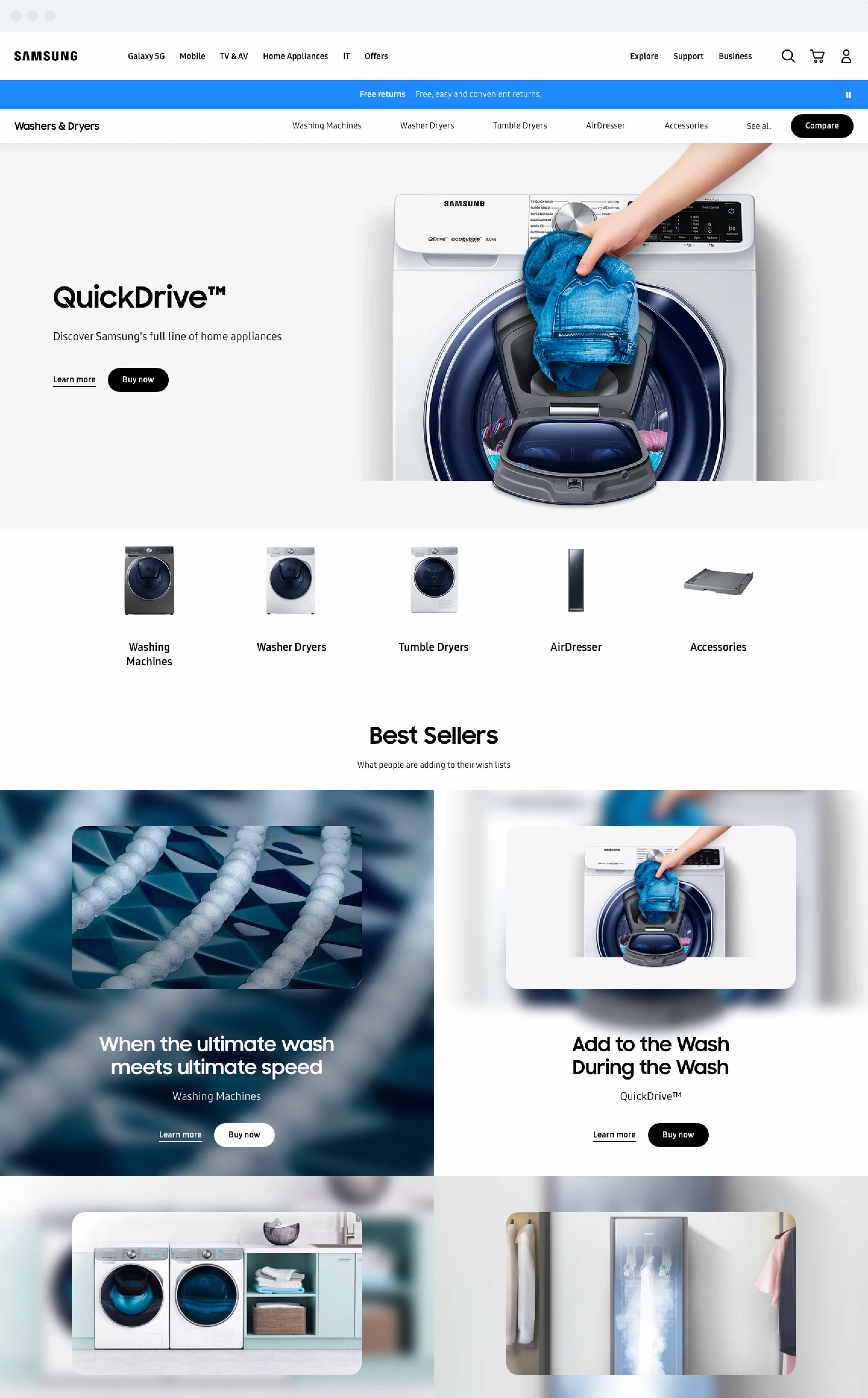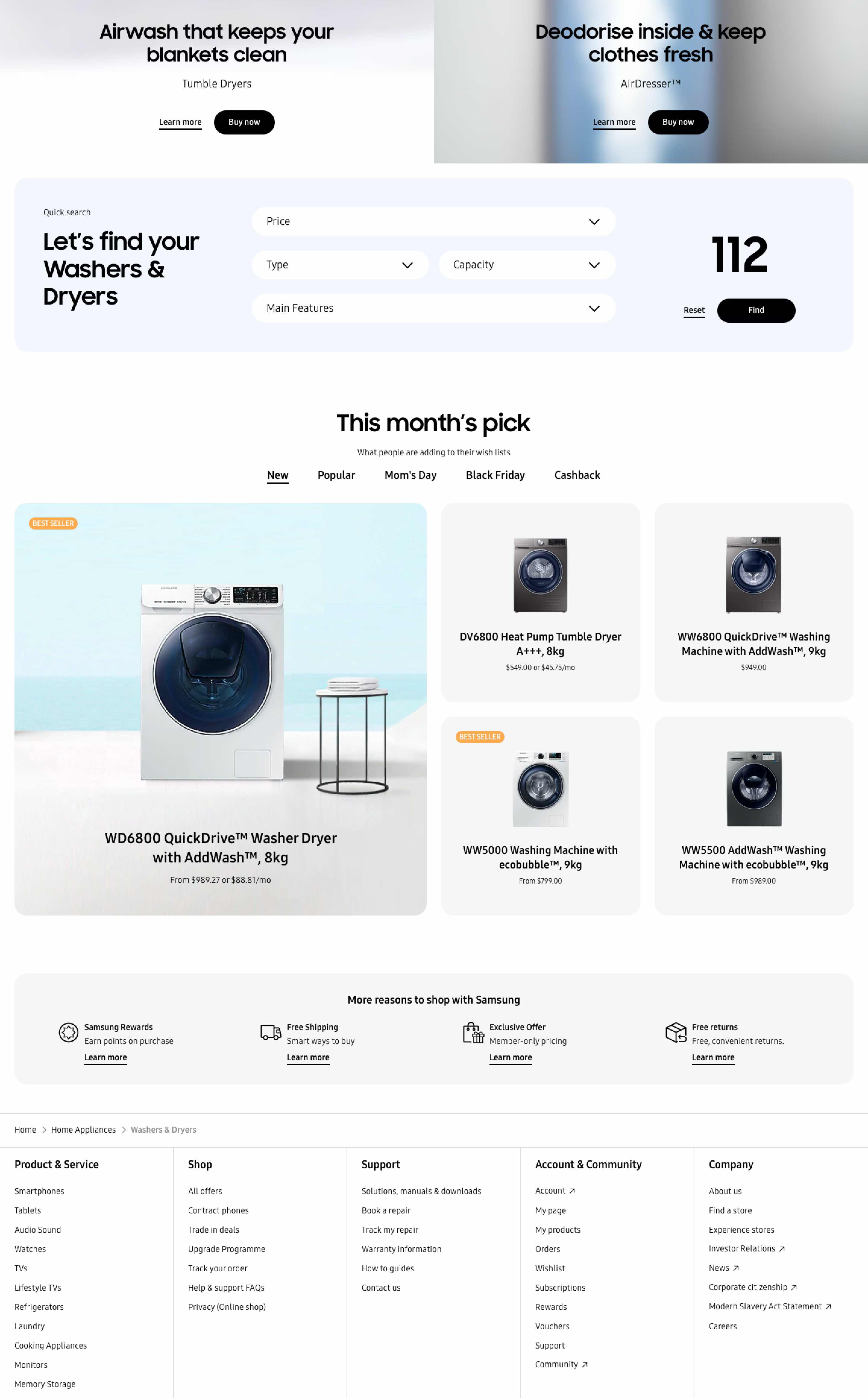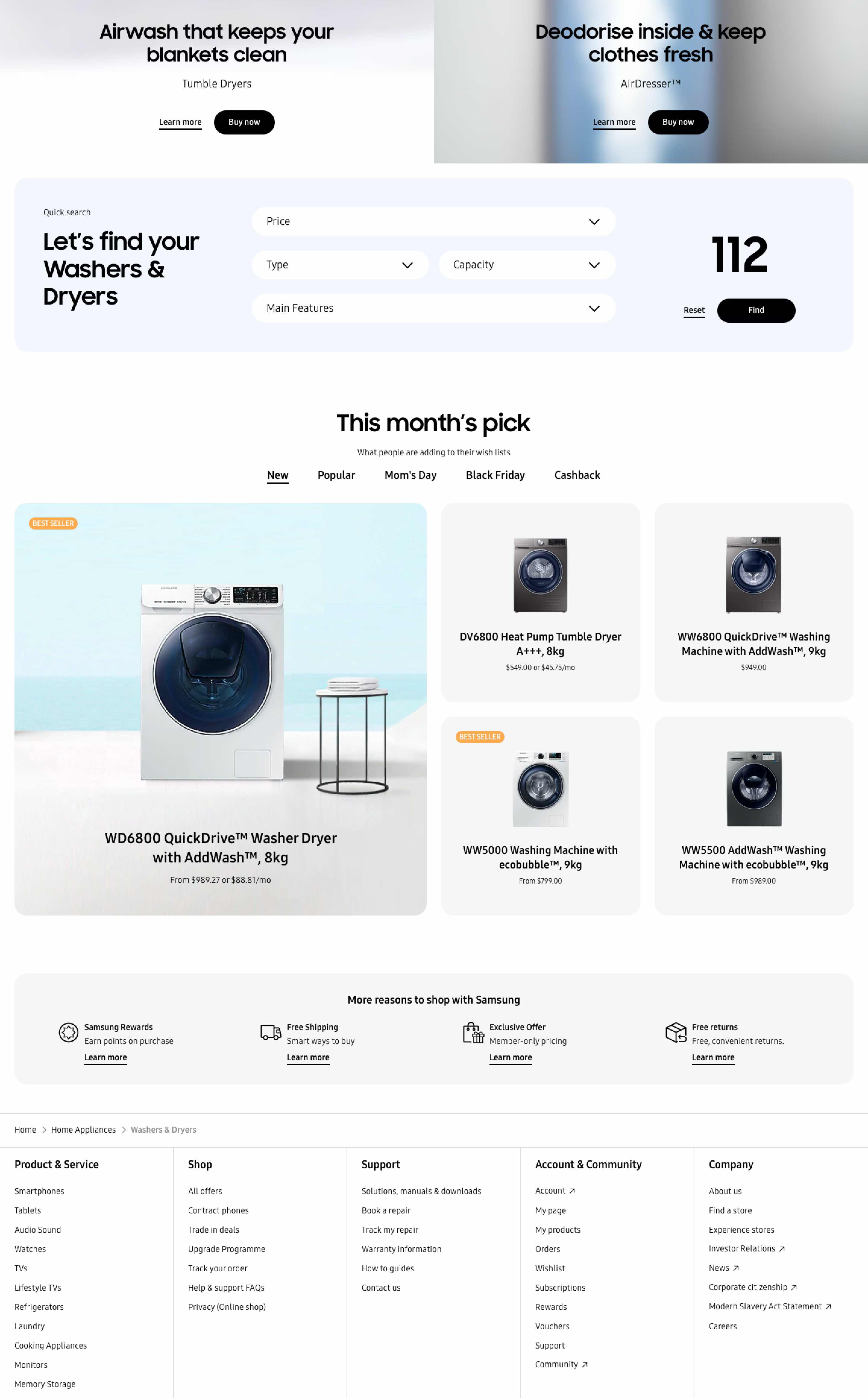 PRODUCT FINDER
Once you're in the zone for a particular product, you can start to hone in on the one you need using the various filtering tools on this Product Finder page.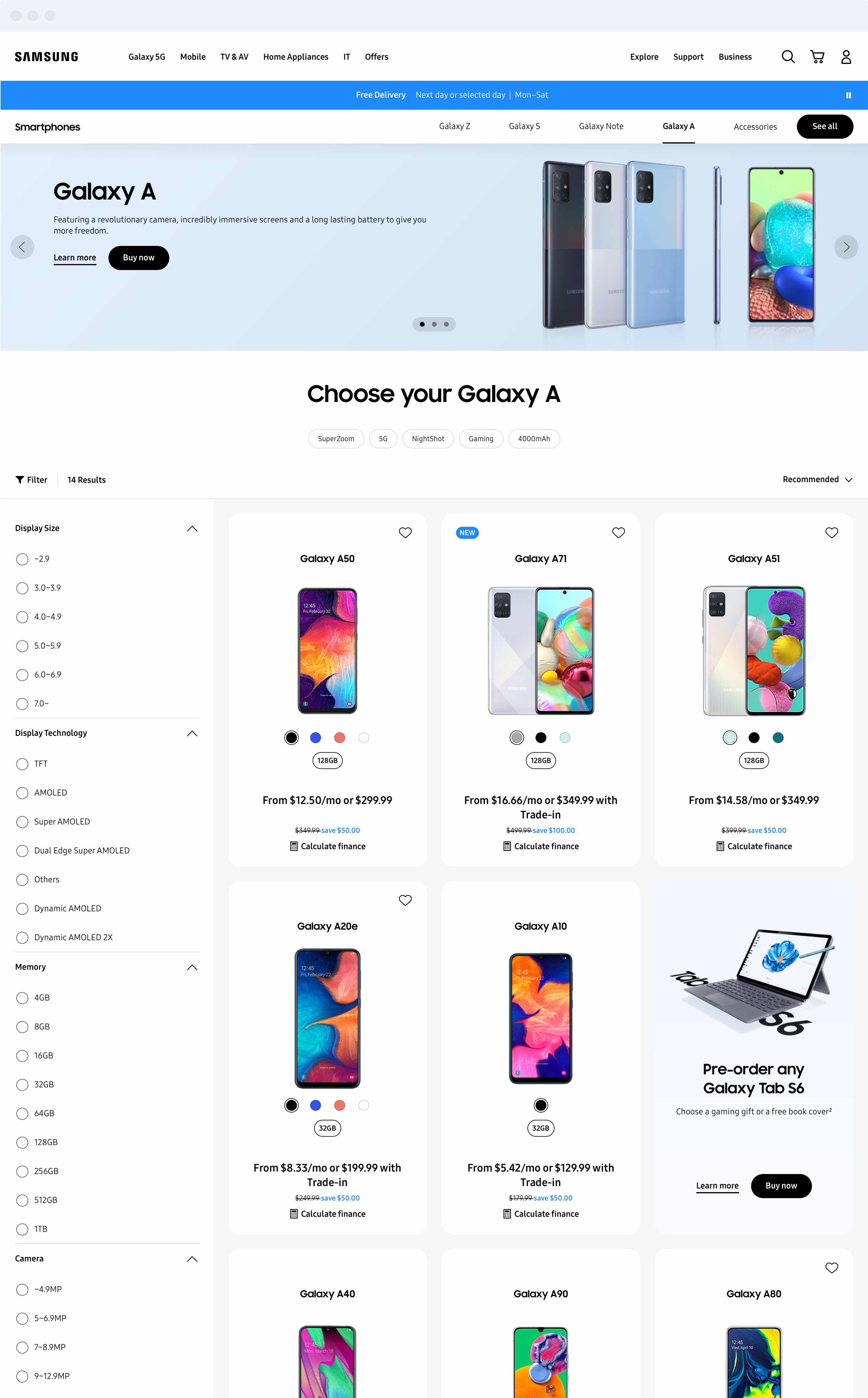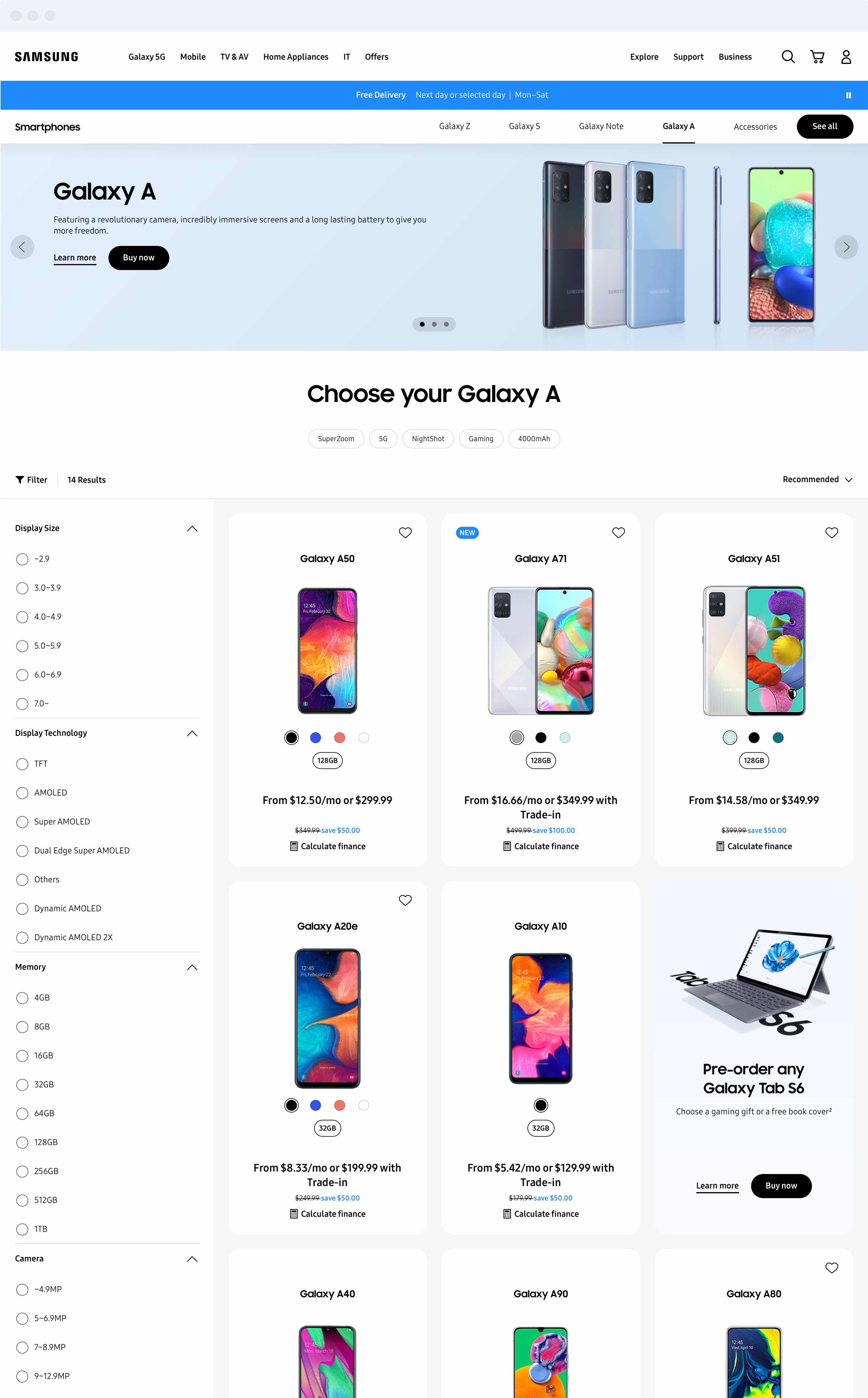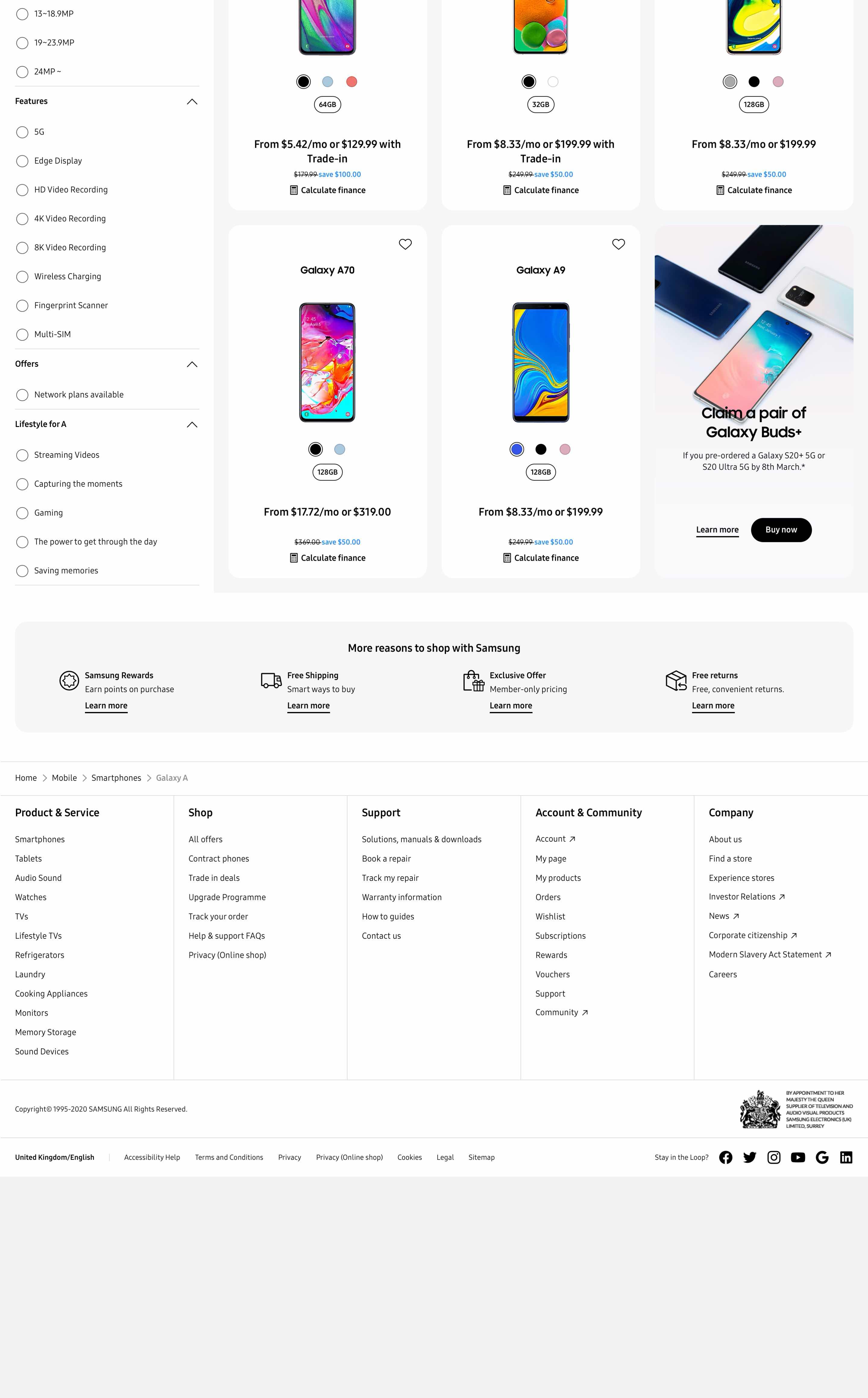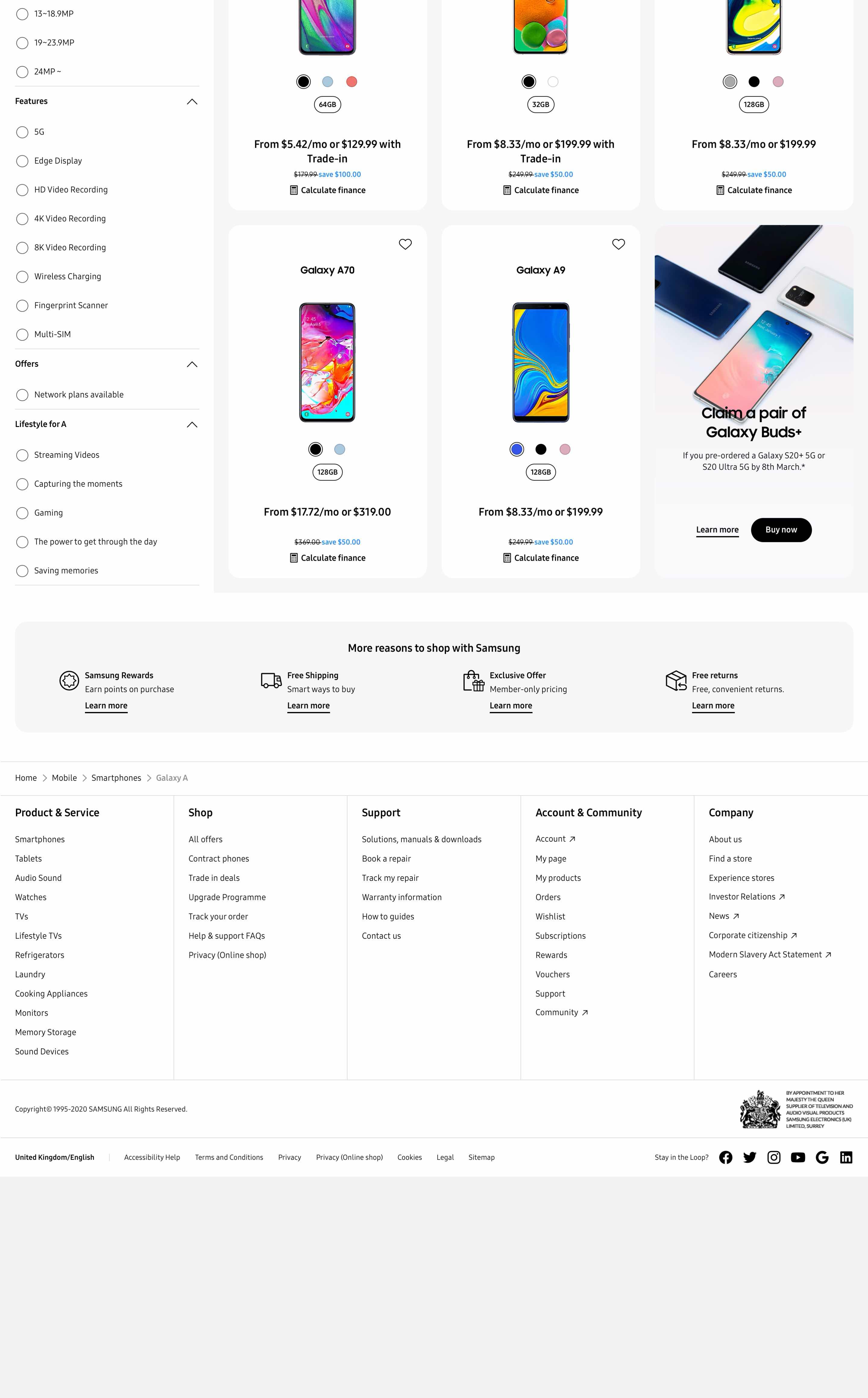 PRODUCT DETAILS
When you've landed on a specific Samsung product, you're ready for the details and the buy flow. It was clear that a one-size-fits-all was no longer going to work for this. So we made three.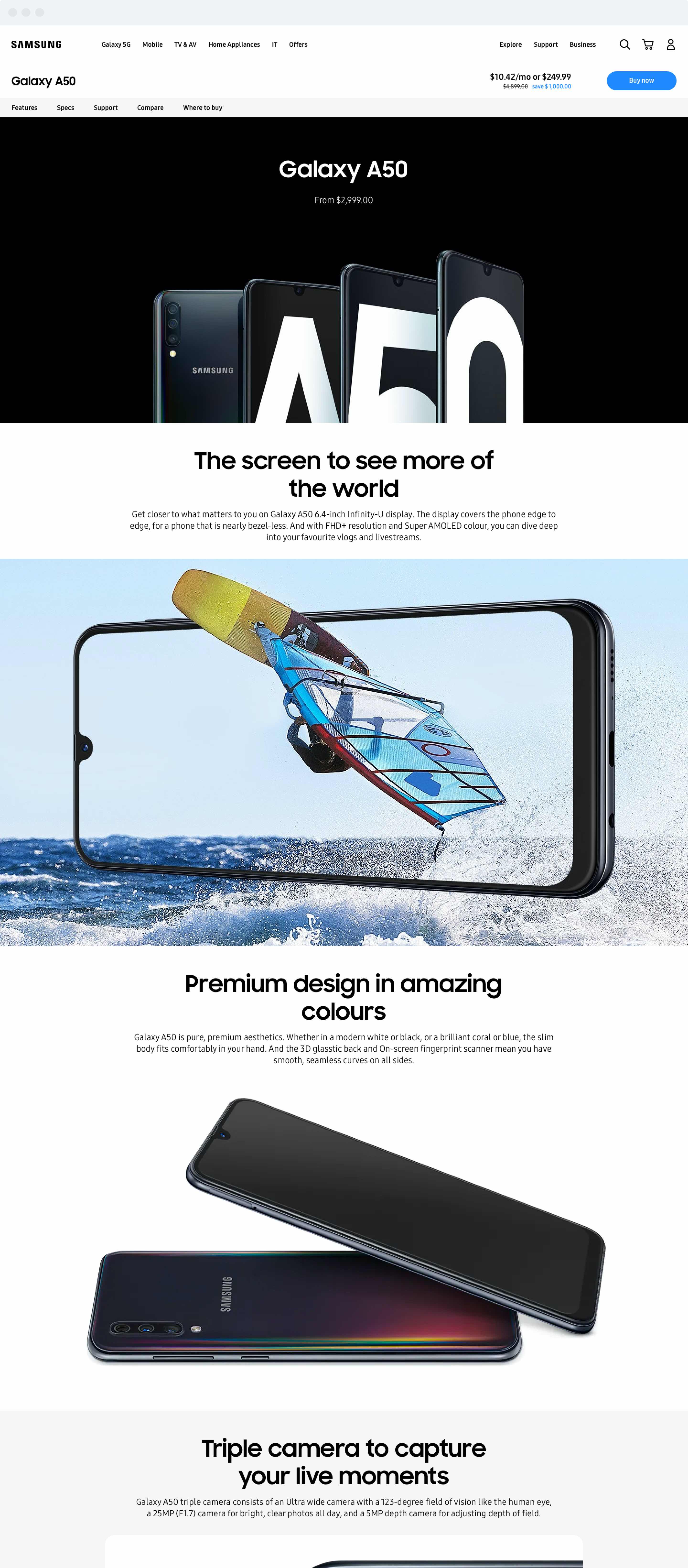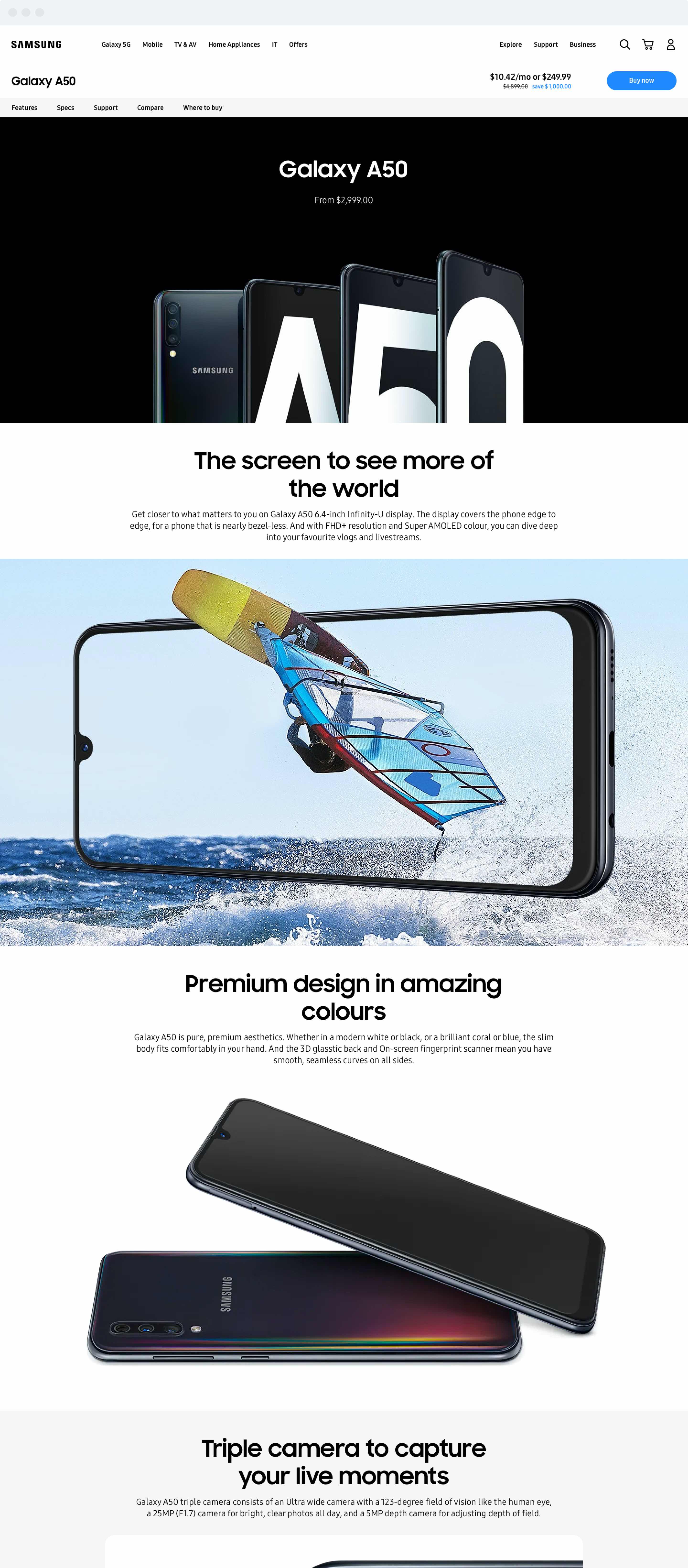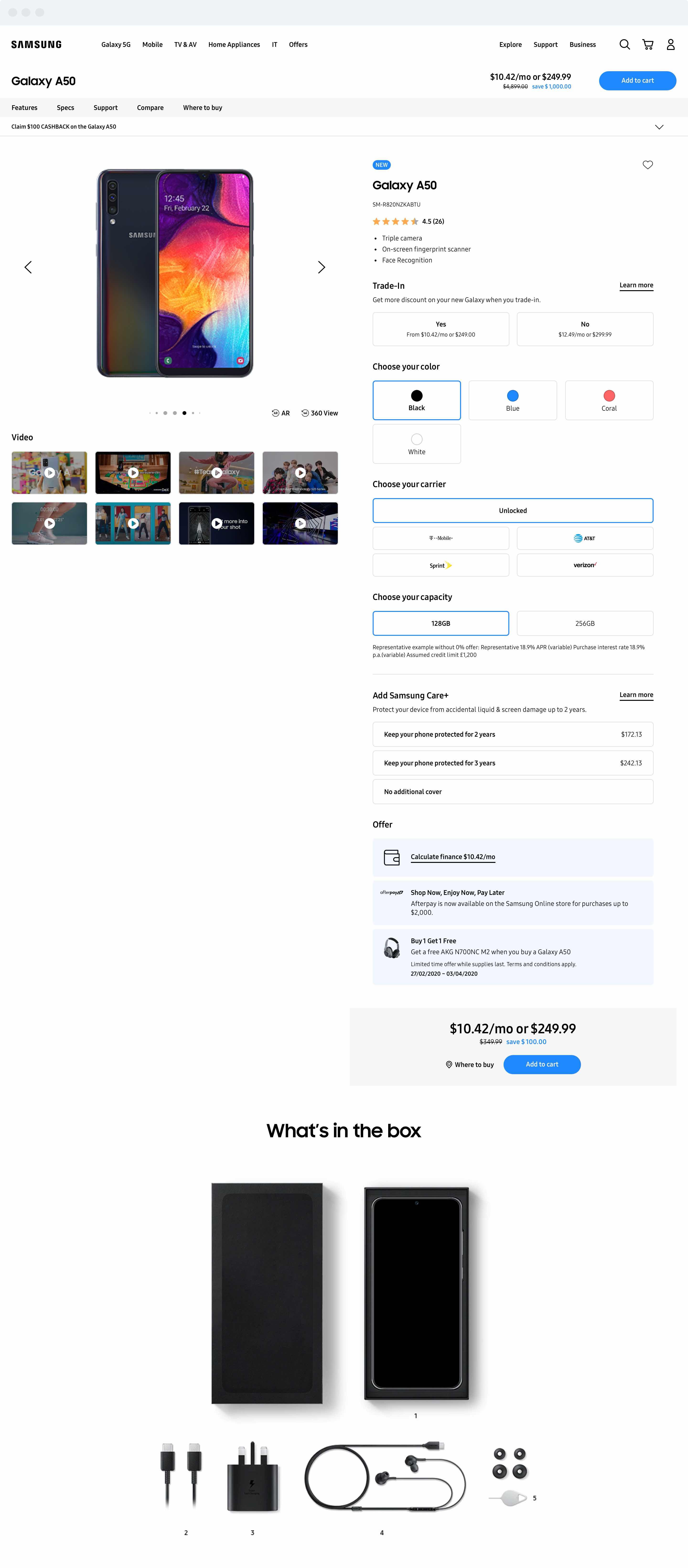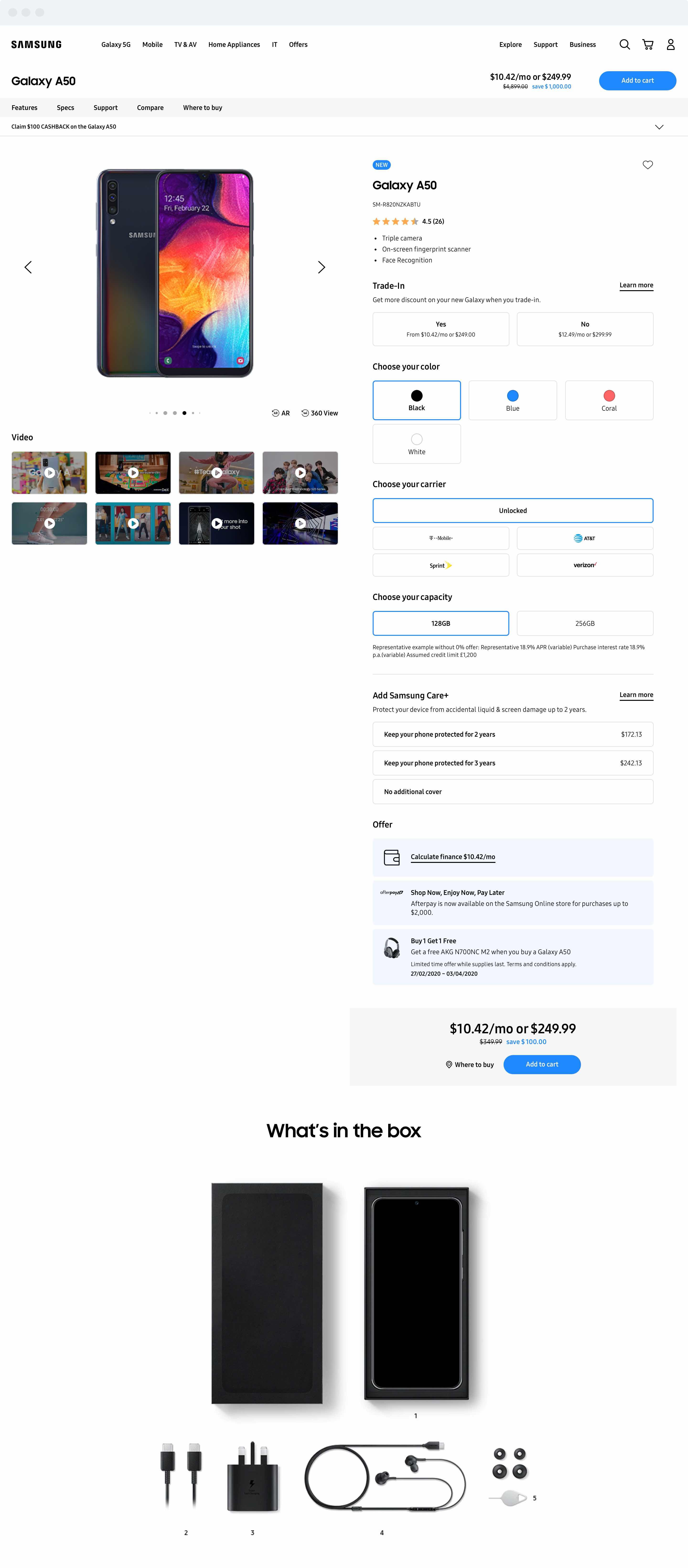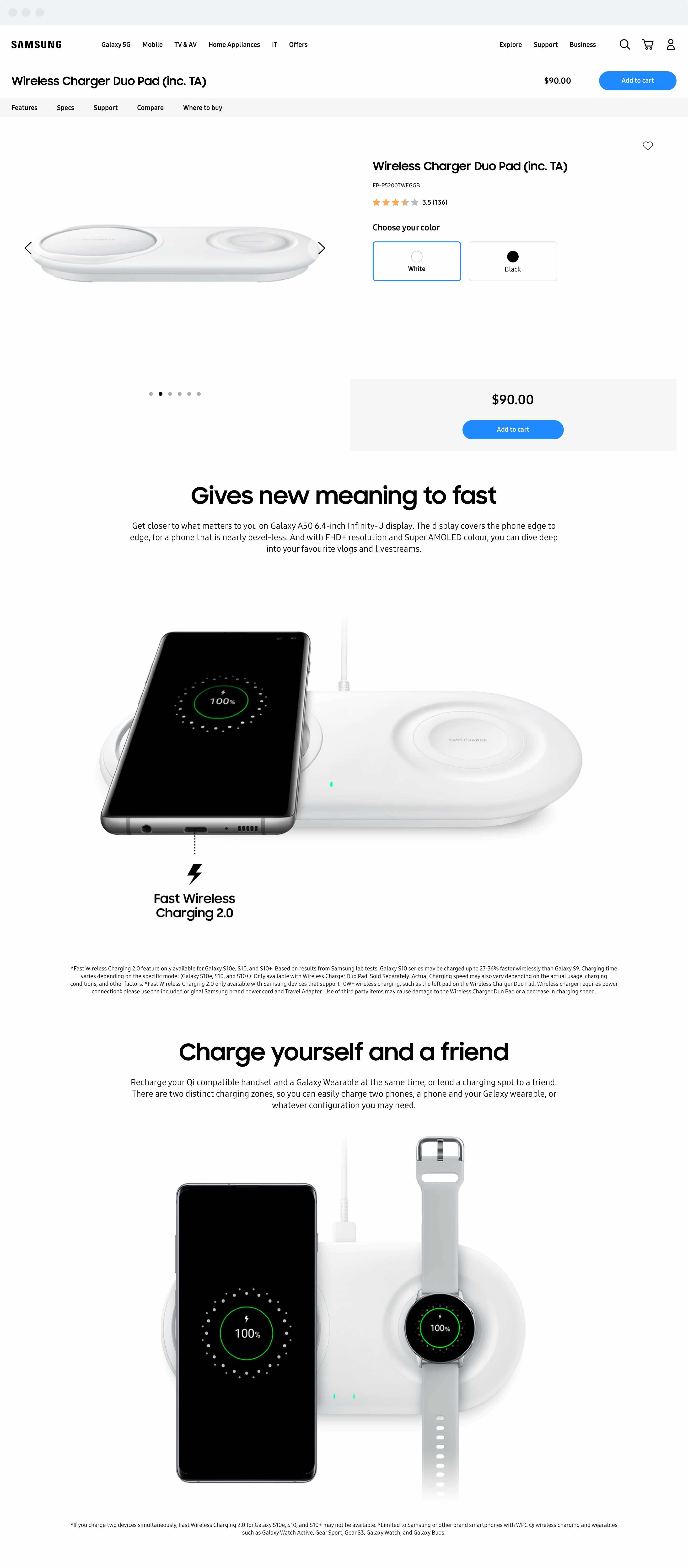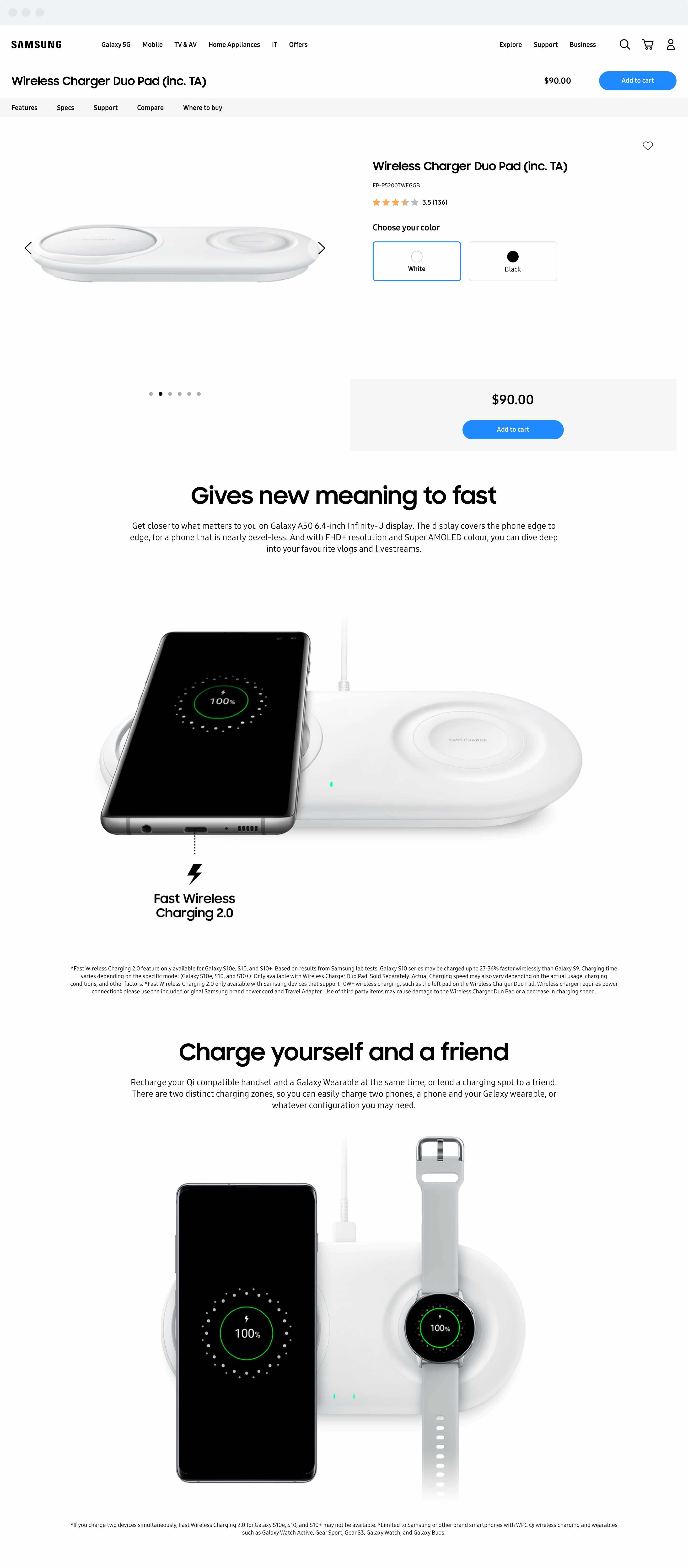 MOBILE
Mobile-first was the methodology we encompassed throughout the project. Components were designed and prioritized there first, with then re-consideration for tablet and desktop.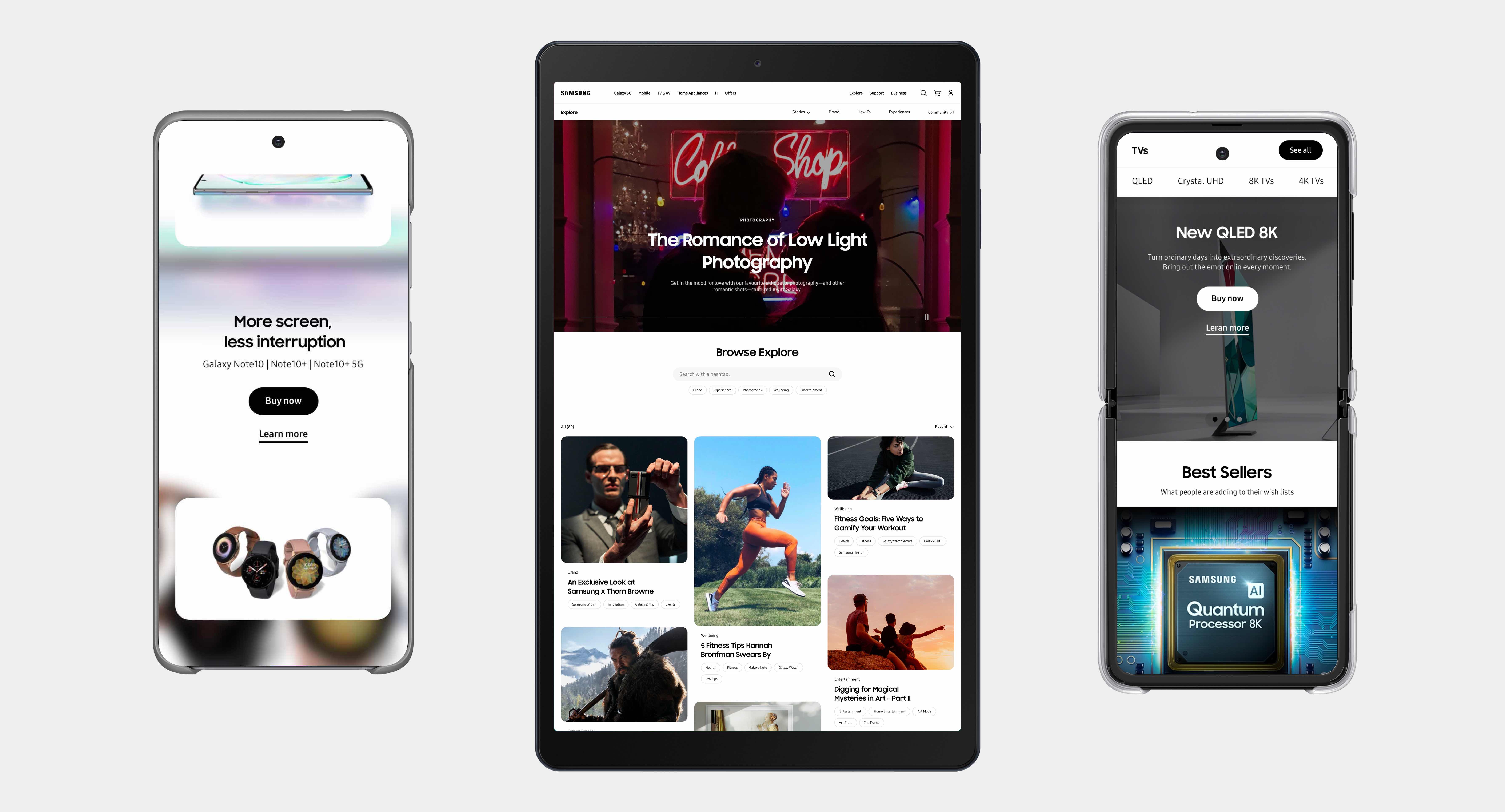 STYLE GUIDE
Our team built most of the foundation and the framework for the style guide. The Duotone team in Korea established and managed on their end a Sketch Cloud library that then tied in with all the design files. That process enabled consistency across the entire global team and informed the final living style guide.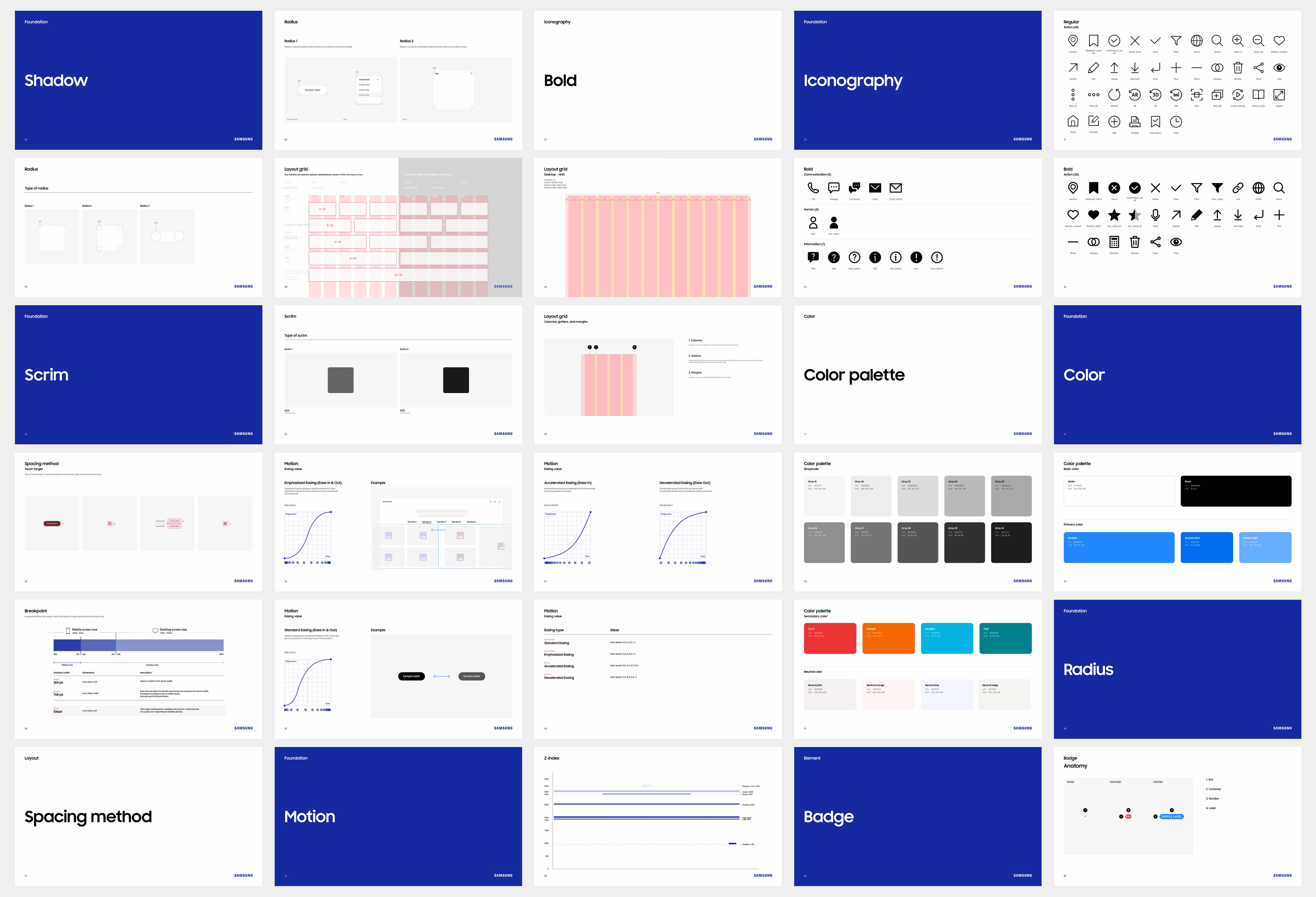 CREATIVE DIRECTORS
James King
Dain Han
Joey Castillo
PRODUCT MANAGEMENT
Nikki Farrah
EXPERIENCE
Raju Dave
Jess Luszcz
MANAGEMENT
Amisha Doshi
Mamthaz Sinha
Junhee Cho
STRATEGY
Nate Williams
CONTENT STRATEGY
Chris Haines
Carson Quiros
DESIGNERS
Samuel Stringer-Hye
Dasol Jung
Kris Gross
Sergio Reynoso
Ryan Harvey
Jeremy Grant
Liz Liu
Constance Song
Big thanks to Cheil and Duotone overseas.